What is
DVSA

earned recognition?

The Driver and Vehicle Standards Agency (DVSA) earned recognition scheme is a way to prove you meet driver and vehicle standards.

This means that you're:
continuously monitoring your own compliance
using

DVSA-validated IT systems
compliant with vehicle and road safety standards
It's a voluntary scheme that's designed to work for operators of all sizes.
What are the benefits of being a dvsa earned recognition operator?
As a DVSA earned recognition operator you'll:
be an exemplary operator, and be able to prove this when you bid for contracts
be less likely to have your vehicles stopped at the roadside for inspections
be less likely to have

DVSA

enforcement staff visit your premises
be able to use the

DVSA

earned recognition marque on your website and other publicity materials (but not on your vehicles)
be recognised as a

DVSA-accredited operator on GOV.UK
have direct access to a dedicated earned recognition team in

DVSA
How it works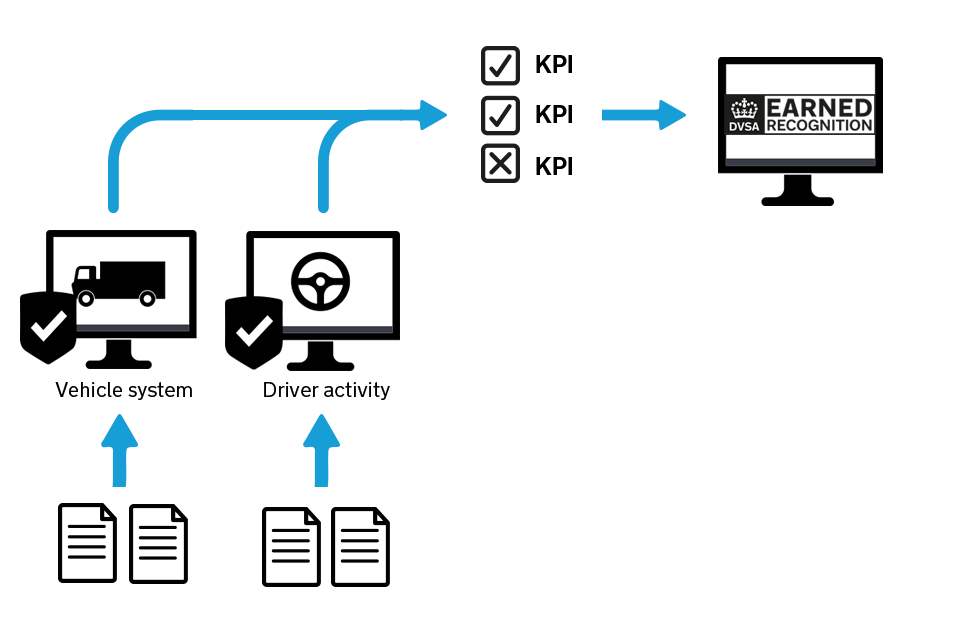 You need to have a DVSA-validated IT system for vehicle maintenance and drivers' hours. This will monitor whether you're meeting a set of key performance indicators (KPIs).
Every 4 weeks, your system will tell DVSA if you've missed any of the KPIs by a set amount. If this happens, DVSA will work with you to fix any problems.
DVSA will not have direct access to any of your data or systems.
Eligibility
Before you apply you need to make sure that you meet the following criteria: (You can download the self assessment check list here)
you've had a heavy goods vehicle (HGV) or public service vehicle (PSV) operator licence for at least 2 years
the Traffic Commissioner hasn't taken any regulatory action (other than a formal warning) on any of your operator licences in the last 2 years
you have digital management systems for vehicle maintenance and drivers' hours, which can track the

KPIs

and automatically report if they're missed
you meet the earned recognition audit standards
If you have multiple operator licences
The application can only be made for the whole business - not individual licences. You must report the data for all your operator licences.
If your organisation contains multiple legal entities operating under one group - using the same management systems - you can make a single group application.
The audit standards and key performance indicators would apply and be measured over the group as a whole.
An individual legal entity cannot be removed from the group accreditation unless it changes ownership or no longer exists.
How much does it cost to join?
There's no application fee to join the scheme.
Audits
Your systems and processes must be audited by a DVSA-authorised audit provider:
once your application has been reviewed
every 2 years after you've joined the scheme
You might need to pay for this, depending on the provider you choose. The providers set their own fees.
If DVSA grants you a concession, you'll need an audit covering the appropriate section every year, up to April 2021.
HS2 Audits
Contracts for the High Speed 2 (HS2) project require additional audit requirements over and above the mandatory earned recognition standards. DVSA Earned Recognition can be used to gain acceptance to HS2 contacts.
AM01 – HS2 is an optional module to the Earned Recognition (ER) accreditation, it is therefore acceptable for operators to choose to apply these additional requirements to an individual operator licence, which is part of the ER accreditation. This would include all the associated operating centres and specified vehicles on the selected licence(s) applying for AM01 – HS2, rather than all the entities and licences in the ER accreditation.
The additional module will need to be audited annually; therefore, in-between the periodic ER audit there will be a requirement for a satisfactory AM01 audit to be completed by an authorised audit provider (AAP).
Vehicles specified on operator licence(s) with AM01 – HS2 would need to include additional check items for the periodical safety inspections (e.g. supplementary equipment for indirect vision or vulnerable road user safety), which will be included as part of the maintenance system KPI report. The additional check items are identified as (*KPI).
Once the audit has been successfully completed, the ER Scheme Manager will notify the applicant the accreditation status of each licence in the application. The operator's ER and/or AM01 – HS2 accreditation status will be published on gov.uk and identifiable with a VRM via the DVSA on-line search application.
Download the DVSA HS2 guide here
How can fleet source help?
As one of only a handful of approved audit providers for DVSA Earned Recognition, our experienced auditors are FORS Practitioners with many years of experience and can provide the expertise and experience you will require to submit you evidence.
Use our contact page to get out touch with us about your needs.
what our customers say
Speedy Asset Services Ltd are a founding member of the Earned Recognition scheme. They operate more than 250 tool hire depots across the UK and Ireland and have a fleet of more than 1,200 vehicles. Speedy looked at the benefits to having the extra HS2 module and they approached Fleet Source to conduct the very first Earned Recognition HS2 audit.
Gareth Jones, Transport Compliance Manger and DGSA said "Fleet Source ensured we were prepared for our HS2 Audit, making sure it was a very smooth and professional service. Having Earned Recognition status proves to our drivers, clients, suppliers and ourselves that we are fully committed to improving our vehicle and driver standards It has also presented considerable cost saving benefits, which completely outweigh the small investment required.. Being recognised as an ER approved operator and founder member is something we're proud of".
Need more information?
Head over to the DVSA website - you can access the link here, or watch the below video to summarise the scheme.
DVSA Earned Recognition